Are Insects and Weather Triggering Your Security Camera's Motion Detection?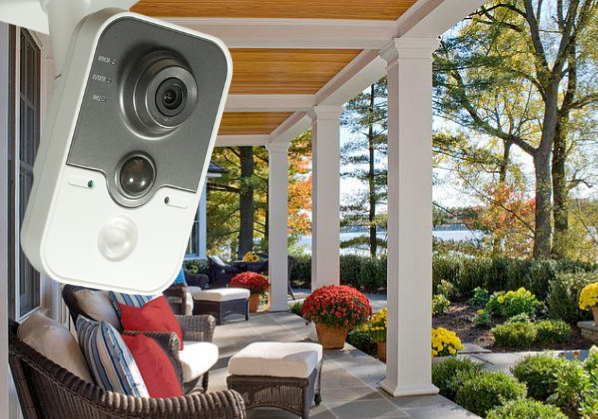 If you're reading this article then you already know that your security camera's motion detection feature was poorly designed. Most security camera systems are notorious for detecting motion indoors from fine dust particles floating around at night to the changes in light conditions indoors from sunlight creeping through the windows. Worse yet, outdoor security cameras will detect motion from insects crawling or flying in front of the camera lenses during the day and especially at night. This can cause false positives every few seconds and drive you to near insanity every time your mobile phone or tablet notifies you that your camera senses motion.
Outside weather can also be a major factor in receiving false motion notification. Motion that is detected from rain, snow or falling leaves can activate the camera system's sense of motion. If you ever contacted tech support from a security camera company, you've already been told that the best solution is to lower the sensitivity to your motion detection settings but that can defeat the purpose of true motion detection. You may find that you're missing alerts when there is a real person or animal in the camera's view.
Luckily, I found a couple of solutions that eliminate unnecessary motion alerts from security camera systems. One of these solutions came from a customer in Orlando Florida who experimented with our security camera system settings and came up with an even better way to make sure he knows that there is someone at his front door and that it is not another bug strolling in front of the camera lens sending false alerts.
For my customer's who use security cameras to cover their home's front and back door, I always suggest purchasing a 2-way audio security camera that has a PIR sensor built-in. A PIR is a Passive Infrared sensor that measures infrared light radiating from an objects field of view. They are primarily used in PIR motion detectors that are found in today's home and business security alarm systems. As you may already know, alarm motion detectors are not triggered by small objects or insects crawling in front of their sensor. It only triggers the alarm when a person or animal of a particular size move into a given space. This is why I recommend using a camera with a PIR feature for certain home and businesses. Not only can you talk to the individual from your mobile phone or tablet from anywhere but you can be assured that you'll be notified only when there is an actual person there to talk to.
By eliminating false alarms from insects and weather, you eliminate "The Boy Who Cried Wolf" phenomena and find yourself checking your notifications instead of ignoring them because you know that they are genuine. This feature has been very useful in Bear country where I have customers who walk out of their homes and find a bear sitting on their front or back porch. Being notified by your mobile phone that there is a large animal like a bear outside of your home before you venture outside can save you or your pets from a scare or even worse.
As mentioned earlier, my Orlando customer found an extra way to make sure he eliminated false notifications by using a feature in his security camera system that is rarely used. Now that I've seen it work flawlessly in his setup, I'm advocating all of my clients to use this game-changing feature. Newer high-end security camera systems have upgraded their already sophisticated motion detection features by adding "line detection". When you or your installer create your motion detection parameters, you can draw a line of detection from one point to another inside the camera's field of view and program the system to notify you if someone crosses that line from a particular side of the line or from the other. If someone steps across this line or set of lines you create, you will be notified of this particular motion. You can also program the line to not notify you if a person crosses the line from the other side of the line, making sure that alerts are only triggered when someone enters an area but not when they are leaving that said area.
The Orlando customer had two problems he had to overcome with motion detection. The first problem was that he lives in a beautiful new home that was built right next to a new pond. This pond has yet to be stocked with fish which normally eat the larvae of midge flies and mosquitoes near the water's edge. Along with the abundance of frogs, this keeps the insect population down within the circle of life we call Florida and because the local circle of life had been broken in this area, his security cameras have become inundated with insects flying and crawling in front of his security camera's lens causing multiple motion detection alerts. His second challenge was that his wife would sometimes walk onto the front porch from inside the house to either sit on the deck or check on their porch plants but she wouldn't walk beyond the porch area and much later would walk back into the house. This caused a lot of unnecessary notifications to show up on his phone which he would check them while he was at work. By setting up his line detection feature on his HD-TVI security camera system to cover his front porch area, he is now only notified when someone crosses the created detection line from the sidewalk outside his porch area and coming into full view within his porch area. This line is approximately 7 feet from the front door. Along with the PIR sensor embedded inside his front porch camera, he created a way for the security camera to know the difference between an insect on the lens or if someone is actually walking onto his porch towards his front door. This thankfully has cut down his camera's front door notifications dramatically to mostly mail package deliveries and when guests and strangers arrive at his door. PIR motion is still detecting and recording motion if someone is leaving the porch area or meandering in front of the camera. He's only receiving a notification if someone comes inside the porch area from outside his line's zone.
Thanks to Kanesh Patel for allowing me to write about his adventure with line detection and the insects that at first triggered multiple motion alerts on his HD-TVI security camera system. He has a beautiful home and family and we are sure that the insect population by the pond next to his home will be fine once it's fully stocked with fish and pond plants. Knowing Kanesh, I'm sure he'll find other uses for his system's line detection and PIR. I would also like to thank his wife for her hospitality, patience, and suggestions with the complete system installation.