How To Catch Someone Keying And Vandalizing Your Car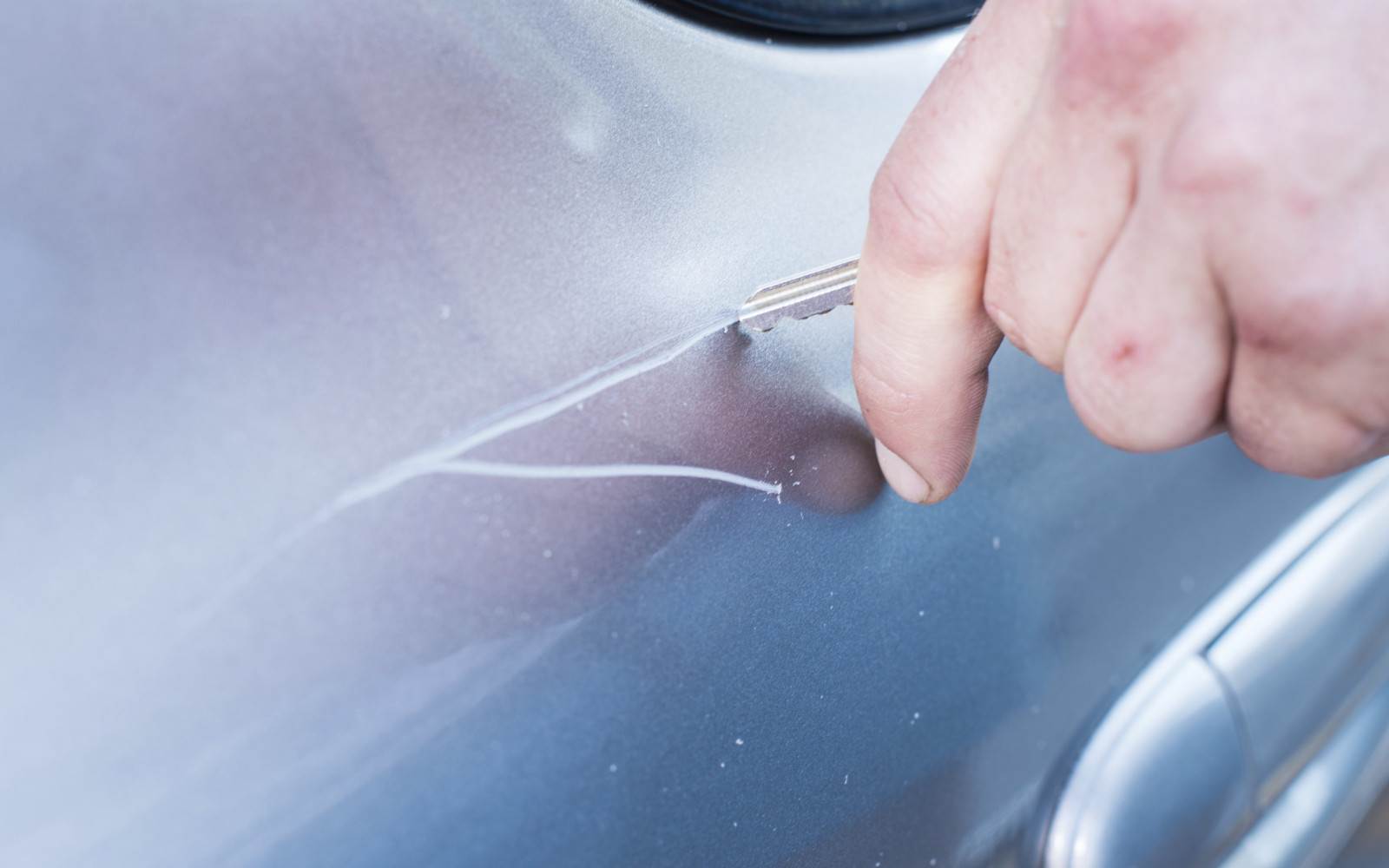 You can catch someone keying or vandalizing your car or truck with a 24-Hour vehicle camera system. It consisting of two cameras that can give you a nearly 360-degree coverage. View the outside of your vehicle from inside the front and back window.

– Armand Lucas
The police will tell you that you need a legitimate eyewitness to your car or truck being vandalized. You can't ask the authorities to investigate or go after anyone you suspect is vandalizing your vehicle. Even if that person was seen near or around your vehicle by you or an eyewitness. You or that eyewitness have to view them in the act of vandalism and write a statement.
There are several dashcam systems out there in the market that can record vivid video while you drive. What you really need is a hardy camera system that can record motion and vandalism 24 hours a day. Your cameras should also have an optional cloud video backup. Your vehicle cameras should be able to penetrate the night and record clear video at all times.
Get Instant Notifications With An Optional Hotspot Device
As an option, you can add a hotspot connection that allows you to view your cameras remotely. You can also receive notifications from the cameras the moment your vehicle is being vandalized.
Any minute movement, may it be someone leaning on your car or slashing your tires can trip the G Sensor (Gravity Sensor). It will notify you through the app's push notification so you know immediately that your vehicle deserves attention. You can choose how sensitive you want the vehicle camera's gravity sensor to be. From the app, you can make changes to the sensors. You can also upload videos automatically to the cloud the moment the G-Sensor is tripped. If you have your car parked in a personal garage, you can have a motion-sensing video uploaded to the cloud. It will notify you immediately. In most cases, I would not suggest setting motion sensing to notify you because, in an outdoor parked area, pedestrians and cars driving by would trigger notifications every few seconds.
How Much Does Hotspot Internet Cost?
Monthly data service for hotspot devices can be included with your very own mobile phone plan. Some hotspot providers like T-Mobile and AT&T, offer unlimited plans. Starting at $10 per month. We can email you a special link with an offer to purchase a mobile hotspot device with free service. The free monthly service includes 200 Megabytes of 4G LTE data. This will allow you to have unlimited notifications from the cameras. When the camera's G-Sensor is tripped, you receive a notification immediately. If you choose not to use a hotspot service, you can always connect your mobile phone.
You can also connect to an existing WiFi connection where you park your car or truck. When I park in my driveway, my vehicle cameras automatically connect to my home's WiFi connection. Also, when I'm in the office parking lot, I'm connected to the business WiFi signal. It's strong enough to reach my car in the parking lot.
Can I Use An Old Mobile Phone As A Hotspot Device?
Yes! You can use an old phone with a hotspot connection to connect your vehicle's cameras to the cloud. Keep in mind, smartphones weren't designed to have their hotspots running for more than a few hours. This is fine when you are visiting a certain area for a few hours. If you need more than a few hours of cloud connection to the cameras then you need a hotspot device. They can easily charge up via your cigarette lighter or USB charger.
The device charges while you're driving. It seamlessly let the device's battery take over when your car or truck is parked. A good hotspot device should offer you anywhere between 12 to 14 hours of internet connection. A third option is to use an existing WiFi hotspot where you park. We can provide you with a link to purchase a hotspot device. It comes with free monthly service as long as you pay the activation fee of $19.95.
Can I Capture The Person's Face On Video?
Owners of SUVs and trucks have a better view of their surroundings when it comes to dashcams. They easily catch vandals keying or damaging their vehicles because they sit up higher than regular passenger cars. When someone is standing right next to the truck, the cameras can catch the chest to face level. It doesn't matter how close they are to your vehicle. Passenger cars can maneuver their cameras a few inches lower on the windshield. This gives cars the advantage of capturing the whole view of the person, not just a chest-to-face capture.
How Are These Cameras Powered?
Until recently, you would need a professional installer to install these professional dashcam systems. They would usually install a direct wire PMP into your vehicle's fuse box. PMP is an acronym for a power management system for vehicle cameras. They are usually purchased with the cameras and you would hand over the camera system with the direct wire PMP. They would install the complete system by connecting the PMP to the vehicle's 12-volt fuse that controls the ignition switch. This fuse is located in the vehicle's fuse box.
The Old Power Adapter Required An Experienced Installer
If an installer connects the direct wire PMP to the wrong fuse, it may cause the dashcam to power down incorrectly. Opening a car door with interior lights can shut it off. In the worst-case scenario, it can cause problems with the vehicle's internal systems or cause battery failure. That is why we now recommend purchasing the newly introduced OBD2 PMP adapter. It connects directly to your car or truck's data port. Saving you from making changes to your fuse box. You just plug the OBD connector to the port and your cameras are powered safely.
Forget Expensive Installations
Most professional installations cost between $100 and $150. But with the OBD2 PMP adapter, you can install the cameras yourself within a few minutes. It has built-in battery discharge prevention for power. It's a plug & play power supply that monitors your vehicle battery voltage if the battery's power falls below 12.3 volts. The adapter will shut the cameras off to save your battery from being completely discharged. You will have enough power to turn over the engine the next time you start your car.
How Good Is The Night Vision On These Cameras?
24-hour vehicle cameras should have exceptional night vision. Very little ambient light is needed with the embedded Sony Chipset. The camera's sensors will illuminate the vehicle's surroundings. Allowing the cameras to capture the faces of vandals keying or damaging your car. You should also be able to identify passing cars and trucks and at times, their passengers as they go by.
What Should I Do With The Recorded Video I Captured?
Download the recorded video directly to your mobile phone via the camera app once you review it. When you have it downloaded to your mobile phone, you have several options. My favorite option is to upload a video incident to YouTube. Most mobile phones come equipped with a YouTube app that allows you to upload videos directly from your mobile phone.
Uploading a video of the incident gives you a point of reference that no one can deny. You can set this video to Private Viewing on YouTube and share the video's unique YouTube website address. Share with the police authorities, neighbors, or close associates to review and act on it. Others prefer to give the video a detailed title and share it openly on YouTube. If uploading your videos to YouTube seems daunting, just hire the service of a teenage techy. They should have you up on YouTube before you know it.