Security Cameras For Vacant Homes and Abandoned Buildings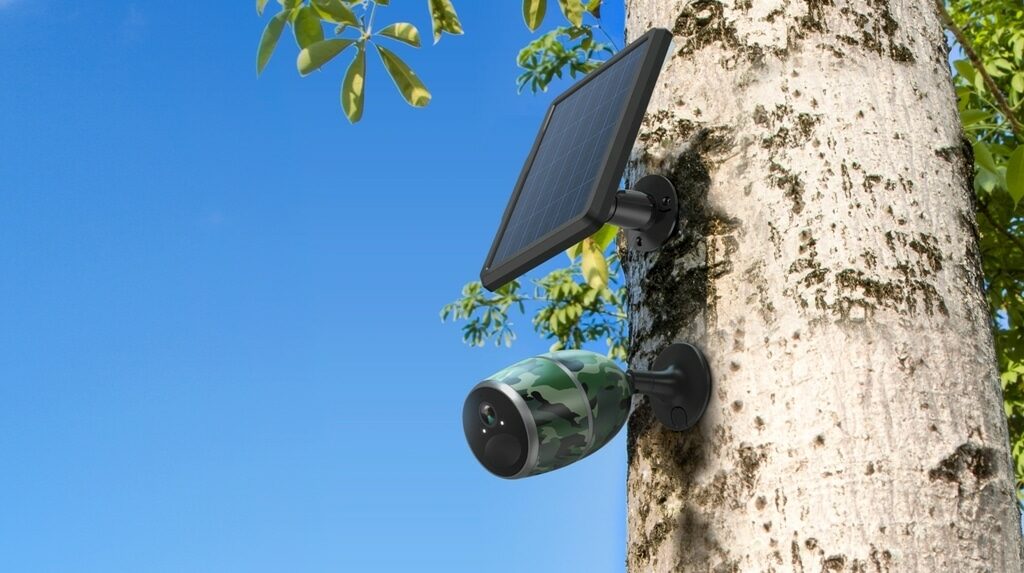 No electricity, no WiFi or internet connection. How can you monitor and manage vacant property or even an abandoned building? As a real estate investor, contractor or property owner can you afford to have 24-hour security guard service? If you don't hire a security guard firm then the next logical step is to hire a security camera company. They can offer you a less expensive but still cost-prohibitive lease on a security camera system with solar battery rechargers. Normally, they can only power a few cameras off a telescopic pole. If you're a farmer trying to cover an even larger area, you would need several security cameras. These modules would be spread out over fields and non-productive areas at an enormous cost.
Nowadays, these expensive solutions are no longer necessary. A new crop of small-sized security cameras can connect to just about any cellular service. They can work for months on battery power. They can also work continuously with a small solar panel the size of a paperback book. These features are now available! This will revolutionize the way vacant homes and buildings are monitored and secured from now on.
These wire-free and Wi-Fi free security cameras can be placed anywhere
Place them inside and outside a building without the limitations of wiring or an Internet connection. In fact, they can monitor an area using their PIR sensors. They will detect particular heat sensors from human bodies from a certain distance. Receive instant alerts on your mobile phone and view the video live. You can also playback video directly from the camera's SD card or Cloud connection.
Features Many Other Security Cameras Don't Have
Siren
You can set off a loud siren from the security cameras themselves to ward off intruders. This will scare off pretty much anyone immediately when they hear the high decibel siren go off. A loud siren will alert nearby neighbors, security services or police. Usually, someone is within a listening distance which can be several hundred yards.
2-Way Talk Communication
Being able to let a person know they are being monitored is another great feature these cameras possess. Imagine the cameras notifying you that someone is in the camera's view. You see the person live from your phone or computer. Then you shout at them to leave the premise or that the police are on their way. That's enough warning to stop the trespasser in their tracks. Also, you can automatically or manually trigger the internal sirens. When you turn on the sirens, that will be that extra bit of scare that gets them running away fast.
Cellular Connection
4GLTE is fast and reliable enough for a smooth 1080p crisp video. That's a high frame rate but not all cellular services work well in all areas. In an area or building you choose to install security cameras, make sure you can receive a great phone connection. I use my phone and a friend's phone with a competing service. This allows me to see which one has the best cellular service. You need to know if you will have great service in the building or home You're trying to cover. Once you are satisfied with the signal strength of a particular service, purchase the sim card for that particular service. May it be T-Mobile, AT&T, Verizon or any other low-cost cellular service that works great in that area. Don't worry, activating and inserting a SIM card into your camera is a lot simpler than you think.
Cloud Connection
The biggest contender in this market is Arlo by Netgear with its Arlo Go camera. The second is Reolink with their Reolink Go camera. As of this writing, Arlo charges a monthly fee to connect to their cloud service with some free caveats. Reolink offers free cloud service (as part of their beta plan to compete with Arlo), up to 10 gigabytes. That's a lot of stored video. Cloud stored videos are different than locally stored videos on an SD memory card. If the camera is ever stolen or destroyed, you can always view the recorded video from the cloud service. Each company allows its customers to view their cloud recorded video right from the same app. This allows them to view the video that is recorded directly to the camera.
Long Battery Life
Wire-free security cameras carry dense battery packs for long battery life. The ones that are also WiFi or wire-free have an even larger battery for weeks and even months of use. It depending on how much traffic or motion it needs to monitor. Camera systems need to be as maintenance-free as possible. Some buildings and homes may be abandoned for months or even years. You need to have someone to charge the batteries when the cameras notify you of low battery power. Which brings us to…
Solar Panel
Each security camera can be powered indefinitely with a solar panel the size of a paperback book. Actually, the solar panel doesn't power the cameras directly. They charge the battery throughout the day, topping off the battery at a constant 100%. In areas with very little sun exposure during the winter, expect the camera's batteries to top off between 30 to 40%. You'll see this in the far north of Alaska during the winter. Expect between 40 and 60% during a Chicago winter. That's more than enough for a continuous power connection.
Extreme Night Vision
Not only do I write about security cameras, I actually install them for a few customers. I've noticed that the Reolink Go security camera I've installed recently had extremely high night views. The coverage was over an empty farm field. Below is a video of the Central Florida farmland with no ambient light from any direction. The customer was able to see and count deer eating and crossing his fields. Occasionally, a person will be walking across his fields when the grass is cut short which surprised my client.
Who Benefits From These Types of Wire-Free Cameras?
Construction companies
They seem to benefit the most. The cost of stolen material and tools is factored into the cost of doing business. When a home or building is under construction it's assumed some will be stolen. Wire-free security camera systems with instant notification, sirens, and 2-way communication can eliminate most problems. At a site, it can considerably bring down the cost of stolen building material. The camera(s) can be moved around as parts of the building project are completed. Keep in mind, accidents and bodily harm caused by trespassers at night can halt precious workdays because of police investigations.
Property owners and investors
Vacant homes and buildings are also targets of thieves who steal copper wiring, lumber, plumbing, and appliances. Vagrants can occupy a building for months before someone even notices them. Property owners can save themselves a lot of headaches by overlooking their property. Either from trees or poles located in the back or front yard of the home or property.
Farmers
Pop-up meth labs and illegal weed growers can occupy farmland. That amount of space is hard to cover with traditional security cameras. Especially if you need to connect to a security DVR and/or internet connection. No farmer wants to spend more money than a problem is worth. They also don't want authorities or trespassers to believe that they approve or turning a blind eye. Farmers and landowners need to capture these problems as soon as they occur on their property.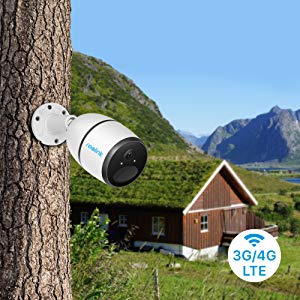 Video connection and the cost of cellular service
I pretty much get away with using a 2nd tier cellular service called FreedomPop. I normally choose their quarterly service (3 months per payment) for about $12. Since incidents are usually infrequent, 2 gigabytes of data is more than enough. You can get up to 2 to 3 months of video capture. It's also enough for cloud service, and the occasional check-in to look in on your property or land. In some cases, I've also used T-Mobile and Verizon SIM cards in certain areas. You can find great deals for data on SIM cards from just about every provider. Remember to also add an SD memory card of at least 64G to the camera. This will ensure the camera records events when you're not available to respond to them live.
If the idea of connecting SIMs and SD memory cards seems daunting, don't worry. Hire a pre-teen or a techy teenager to help. They can also download the app and connect the camera online for you within minutes. They're in tune with today's technology. If you're using a family member, $40 and some pizza can go a long way. Especially if you are connecting several cameras. When it comes to physically installing your camera, all you need is a drill, a screwdriver. The time to physically install the camera doesn't take long at all. Or you can have a handyman install it for you once the cameras have been programmed. Forget hiring an expert to program and install the cameras for you. They charge somewhere near $125 per hour with a 2-hour minimum. Keep this in mind when you're budgeting several cameras to install.
Final Tips
Program and turn on the cameras for a live feed before you install them. You will be able to look at your mobile phone app live. View the video live while the camera is adjusted and pointed in the right direction.
Reolink Go is the most affordable completely quite free camera in the market today. It also has a higher rating overall than the Arlo Go.